Julia Lezhneva sings Rossini (FLAC) (2011)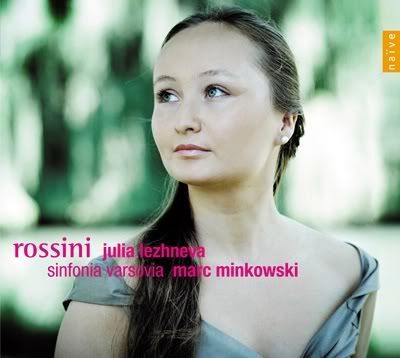 Julia Lezhneva sings Rossini (FLAC) (2011)
EAC Rip | Flac(tracks) - cue - log | 226 MB | 1 CD | No Scans
Genre: Classical
Astar is born! The Russian soprano Julia Lezhneva is the vocalrevelation that everyone is talking about. Still only 21, a prot??g??e ofDame Kiri Te Kanawa and the winner of several major awards, Lezhnevamakes her solo recital debut with a programme of arias by Rossini, acomposer of whom is particularly fond. She is accompanied by theSinfonia Varsovia conducted by its new artistic director Marc Minkowski.
In2007 Julia Lezhneva won the prestigious Elena Obraztsova InternationalCompetition for Young Opera Singers in St Petersburg, for which thejudges included Teresa Berganza, Christa Ludwig and Eva Marton. She hassung opposite Juan Diego FlN?rez at the Rossini Opera Festival in Pesaro,and made her UK debut, aged 19, with the Royal Liverpool PhilharmonicOrchestra conducted by Vasily Petrenko, also performing Rossini. HerLondon debut, introduced by Dame Kiri Te Kanawa, came at the 2010Classical Brit Awards singing Elenas Final Rondo from Rossinis LaDonna del Lago in the Royal Albert Hall.
In October 2010 sheconfirmed her status as one of the worlds most exciting talents bywinning the First International Opera Competition held at the Theatredes Champs-Elysees in Paris. Her performance in the recent Na??verecording of Vivaldis opera Ottone in Villa, conducted by GiovanniAntonini, has been praised to the skies by the international press. Herdebut solo concerts at the 2010 Salzburg Festival with the MozarteumOrchestra and Marc Minkowski likewise achieved extraordinary success.Minkowski has followed the young singers career closely; it was he whoinvited her in 2009 to take part in Bachs B minor Mass, her firstrecording, and in summer 2011 she will sing the part of Fiordiligi underhis baton in a new production of Mozarts Cos?? fan tutte at Salzburg.Despite her youth, Julia Lezhneva has a huge and extremely variedrepertoire, ranging from the Baroque and bel canto styles to Romanticand contemporary music.
:
Tanti affetti in tal momento (from La donna del lago)
Ils s??loignent enfin (from Guillaume Tell)
Bel raggio lusinghier (from Semiramide)
Assisa a pi?? dun salice (from Otello)
La Cenerentola - Sinfonia
Nacqui allaffanno, al pianto...Non piN? mesta (from La Cenerentola)
Lora fatal sappressa ... Giusto ciel! (from LAssedio di Corinto)
Download:
Code:
http://forumwizard.net/directdownload/191807324/0818a_JuliaLezhneva.rar