Blue Devil
Blue Devil is a superhero featured in material published by DC Comics. He first appeared in a preview story published in Fury of Firestorm #24, cover dated June 1984. That story lead directly into Blue Devil #1, also cover dated June 1984.
Blue demon and later alliances
When the demon Neron takes control of Hell and began seeking souls on Earth, Blue Devil was one of those he approached. Neron offered him a chance to be a movie star, but neglected to mention that the bargain would also result in the death of one of Cassidyís closest friends. Cassidy accepted; his part of the bargain was to destroy an automatic electrical substation far in the desert, which he did. When his reporter friend Marlene investigated, an accident occurred, killing her and her pilot. In sympathy for Cassidyís loss, movie offers poured in.
In the end, Cassidy cheated Neron of his prize but died in the process. Cassidy was soon reincarnated as an actual demon. Now, instead of a man in a costume, he was an actual Blue Devil.
Cassidy rejoined the Justice League and remained with them until his second death, this time at the hands of the villainous Mist. Blue Devil had joined an incarnation of Justice League Europe but the Mist attacked, killing most of the team. Blue Devil was seemingly destroyed in a rain of holy water, leaving only his skeleton behind. His bones were secretly recovered by the magician Sebastian Faust, who took them with him on a mission with other superheroes. Their goal was to travel to Hell to restart its fires, as Hell itself had completely frozen over and demons walked the Earth. The team confronts Nebiros, the last demon in hell, who was guarding the portal to the fires in the City of Dis. Nebiros sports his own demonic trident, which he claims was given to him by the King of Lies himself. Though with Nebiros being a demon, this itself might have been a lie. Faust manifests Blue Devil out of a bag of bones. He steals the trident and throws Nebiros high into the air. A blast from Firestorm turns the demonís blood into cement, seemingly killing him. The hellish invasion is defeated by other means.
Cassidy then joins the Sentinels of Magic and partners with Faust, though this friendship was not all Cassidyís will. He was soon let free via the restoration of his very last bone, because Faust did not want to see Cassidy get hurt. Cassidy did though, eventually giving his life a third time fighting Hermes Trismegistus. He did not remain dead long, however, and roams the Earth for a time banishing demons back to Hell.
Even before he became Blue Devil, Dan Cassidy was a highly trained martial artist and acrobat. His costume included Kevlar body armor, visual and auditory amplifiers, radio gear, mini-gills allowing underwater breathing and servo-motors which increased his strength at least twentyfold. After being grafted to Cassidyís body the costume became organic and gained the ability to self-repair at an extremely fast rate (effectively a healing factor). Cassidyís abilities seem to have been changed little by his transformation into an actual demon.
In his current incarnation, Blue Devil still possesses some degree of superhuman strength, capable of going toe-to-toe with beings like Eclipso, and knocking out a power-drunk Enchantress in one punch. He is also remarkably resistant to physical damage, evidenced when Eclipso threw him a distance of approximately 500 feet upwards, he didnít even require time to recover before getting up and heading back into the fight.
Originally, Blue Devil wielded a trident of his own design which included, among other things, rocket engines capable of carrying two people at high speeds. He now carries the Trident of Lucifer, which allows him to find demons on Earth and banish them to Hell. During a battle with Eclipso and the Spectre the Trident was thrown into the ocean; it was recovered shortly after by Aquaman who returned it to Cassidy. The trident was recently given to Zauriel, who has taken Blue Devilís place in Shadowpact.
Issues 0 - 7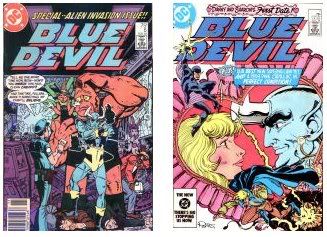 Download:
[HIDE]
Code:
http://uploaded.net/file/1y9kqowp/115213351/blue01.rar
[/HIDE]
Issues 8 - 15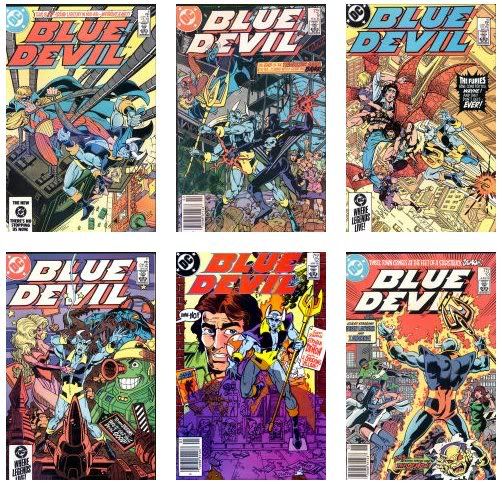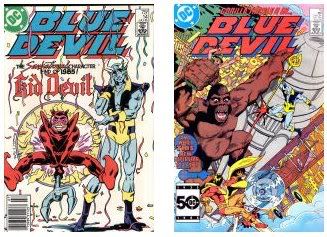 Download:
[HIDE]
Code:
http://uploaded.net/file/1y9kqowp/115208319/blue02.part1.rar
http://uploaded.net/file/1y9kqowp/115201741/blue02.part2.rar
[/HIDE]
Issues 16 - 22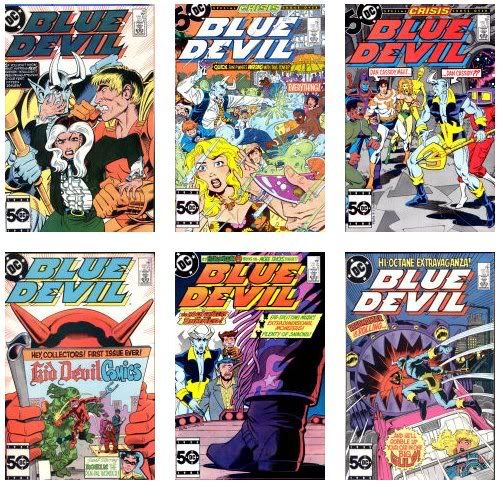 Download:
[HIDE]
Code:
http://uploaded.net/file/1y9kqowp/115200620/blue03.rar
[/HIDE]